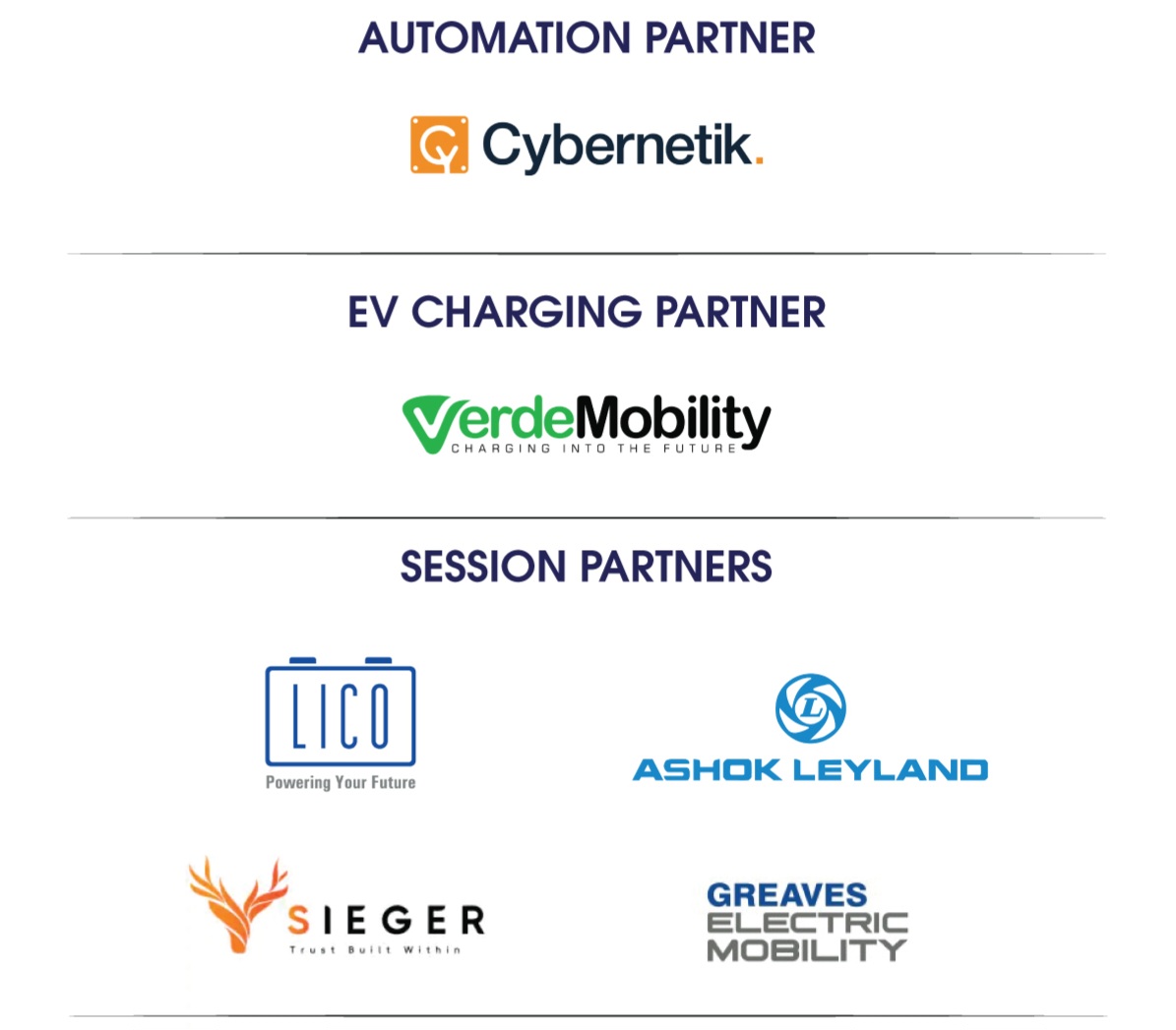 Time
Event Flow on 21st Dec 2023
9:30 AM - 10:00 AM
Registration & Networking Morning Tea/Coffee
10:00 AM - 10:30 AM
Deep lightning Ceremony and Opening remark
10:30 AM - 10:50 AM
Case study on "How manufacturing automation played an important role in solving complex challenges faced by a battery manufacturer" by Cybernetik Technologies
10:50 AM - 11:10 AM
Presentation
11:10 AM - 12:00 PM
Panel Discussion Session 1: EV Manufacturing

- Industry potential & required initiatives from the Government.
- Present status of raw material & components supply chain in the country and needed ecosystem to go fully local.
- Materials & design requirement to make EVs more competitive.
- Evolving Technology / Innovations in the Industry.
- Investments & Capital access
- Emerging Business models & Industry Partnerships
- Roadmap to become a global EV manufacturing hub
- Export potential
- Creating a Talent Ecosystem for EV Manufacturing
- Stakeholders views & key recommendations

12:00 PM - 12:20 PM
Presentation
12:20 PM - 12:40 PM
Presentation
12:40 PM - 1:30 PM
Panel Discussion Session 2: EV Charging and EV Fleet

- Pacing fleet electrification & residential charging
- Current state of charging infrastructure & developments
- Discussion on Fast charging and Battery swapping
- EV service network readiness
- Role of DISCOMs in supporting the charging network
- Scaling charging network through franchising/partnerships
- IoT & Telematics in fleet management.
- Hardware & Software for big data analytics in charging network optimization
- Creating a Talent Ecosystem for EV Charing
- Investments & Capital access
- Stakeholders views & key recommendations

1:30 PM to 2:30 PM
Buyer Seller Networking & Lunch
2:30 PM to 2:50 PM
Presentation
2:50 PM to 3:10 PM
Presentation
3:10 PM to 4:00 PM
Panel Discussion Session 3: EV Batteries

- R&D for EV batteries: Design, safety, recycling
- Giga scale manufacturing potential
- Battery Management System
- A take on Battery recycling
- Battery analytics
- Sustainable EV batteries chemistries
- EV Battery Manufacturing challenges & solutions
- Creating a Talent Ecosystem for Batteries
- Investments & Capital access
- Stakeholders views & key recommendations

4:00 PM to 4:30 PM
Masterclass on "Upcoming Indian Regulation AIS-129 with updated Compliance and Sustainability"
4:30 PM to 5:00 PM
Evening Tea/Coffee & Networking
Glimpse of our previous Editions / Events
EV Update Karnataka Summit 2023 | Bangalore
EV Update National Summit 2023 | Delhi
EV Update Gujarat Summit 2023 | Ahmedabad
EV Update Maharashtra Summit 2023 | Pune
EV Update Karnataka Summit 2022 | Bangalore
Why exhibit or partner?
Showcase your products or services to the key decision makers, high authorities, Govt. bodies, etc. in the industry.
With the excellent no. of industry focused attendees at one location you can expect a great ROI.
A great platform to launch your new product.
Explore joint ventures, partnerships, client Interaction focusing on current & future Project Pipelines.
Great Branding & Presentation opportunity in front of the Industry.
Who should attend?
Government and regulatory agencies
EV Manufacturers (OEMs)
Battery manufacturers
EV component suppliers and manufacturers
Design & Simulation companies
Battery material manufacturers and suppliers
Transport and city infrastructure planners
Electricity and power producing and selling companies
Transmission and distribution utilities
Charge point operators
Electric vehicle supply equipment (EVSE) providers
Charging technology and equipment manufacturers and suppliers
E-mobility service providers (EMSPs) and software suppliers
Commercial charging management companies
Logistics and fleet operators
Real estate and commercial space owners
Oil & Gas Companies
Investors, Financial institutions, legal experts, etc.